This article was first featured in our free weekly Raising Empowered Kids newsletter. Sign up here to receive exclusive first looks at our best strategies, guides, and inspiring stories.
"A mentor is someone who sees more talent and ability within you, than you see in yourself, and helps bring it out of you." — Bob Proctor
Last week marked International Coaching Week, a time to celebrate the power and impact of coaching and mentorship.

This year's theme, "Explore Your Potential," is a powerful reminder that kids have endless possibilities to discover their unique talents and passions, paving the way for incredible adventures in both their personal and future professional lives.

When it comes to nurturing the entrepreneurial spirit in our young ones, mentors play a crucial role in shaping their journey.
Finding the Perfect Mentor
Mentors provide guidance, support, and inspiration, helping kidpreneurs navigate the exciting world of business. The quest to find the right mentor for your kidpreneur is an adventure filled with surprises and excitement.
From industry experts to successful entrepreneurs, there is a wide range of mentors who can contribute to the growth and development of young entrepreneurs. Let's explore different types of mentors who can empower and guide kids on their path to success.
Industry Experts
Mentors who have experience and expertise in the specific field or industry that the kidpreneur is interested in can provide valuable guidance and insights. Research companies that offer job shadowing or internships for kids to allow them to gain valuable hands-on experience.
Successful Entrepreneurs
Mentors who have built successful businesses can share their knowledge, strategies, and lessons learned from their own entrepreneurial journeys. For example 17-year-old Moziah Bridges, the founder of Mo's Bows, was mentored by Daymond John from Shark Tank, who helped him grow his business into a million-dollar enterprise. Check out SCORE for volunteer mentors that you could meet together with your kidpreneur.
Community Leaders
Mentors who hold leadership positions in the local community can offer guidance and connections that can benefit your kidpreneur's ventures. Explore your local Chamber of Commerce to connect with industry mentors and leaders who can provide valuable guidance.
Teachers or Coaches
Mentors who have a background in education or coaching can provide support, accountability, and valuable skills development. The best aspect about life coaching for kids is that it is preventative in nature. Schools do not train kids to handle the pressures of life - but life coaches can!
Family Members
Parents, older siblings, or other family members who have experience in entrepreneurship can serve as mentors, offering support, advice, and a familiar source of guidance for the young entrepreneur. Alina Morse, the creator of Zollipops, received mentorship from her father, who supported her through the process of developing and launching her healthy candy business.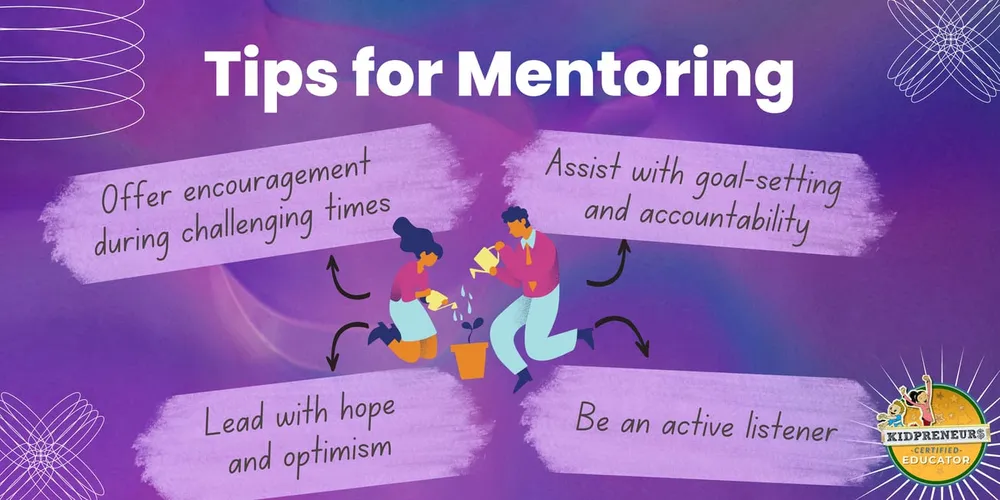 Remember, the ideal mentor will depend on the specific needs and interests of the kidpreneur and a combination of mentors from different backgrounds can provide a well-rounded support system.
May your kids stay curious, stay inspired, and keep shining brightly!
Sylvia